Salmon Watch Ireland - 2019 - Galway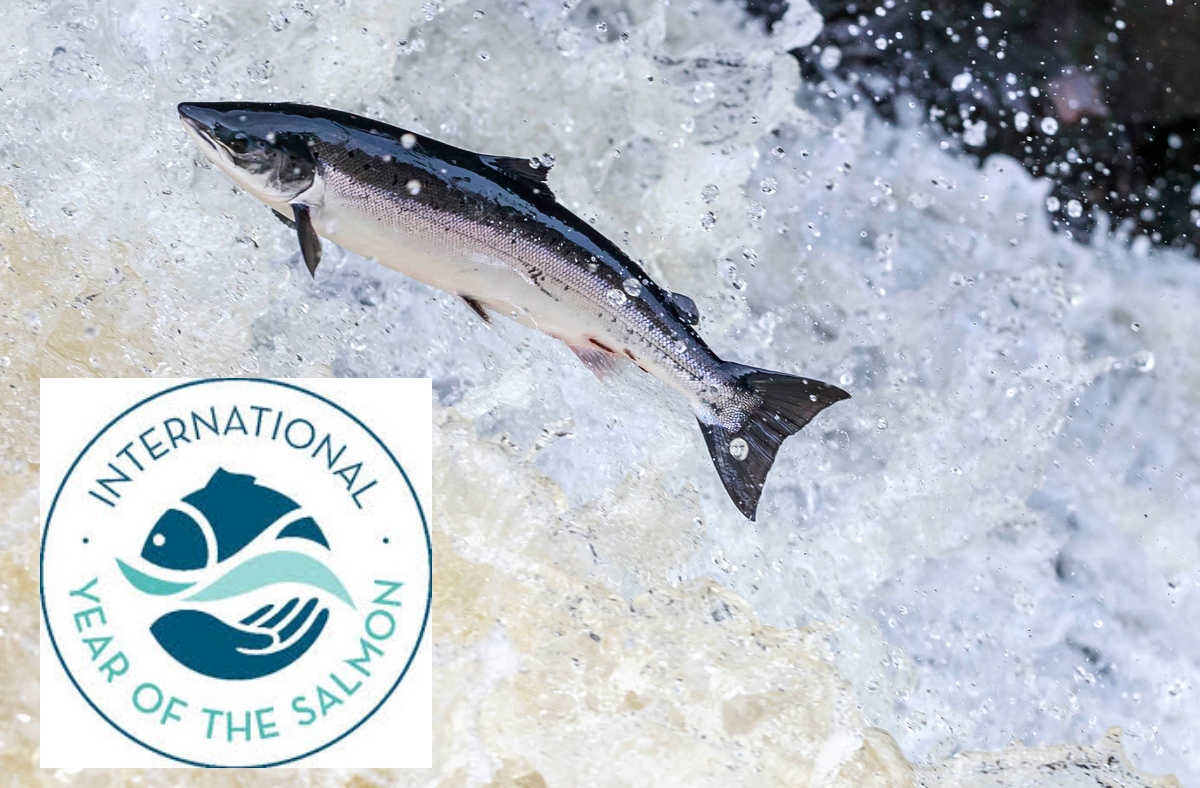 The annual conference of Salmon Watch Ireland took place in Salthill, Galway on the 19th October 2019. The conference this year focused on the launch of our road map for Atlantic salmon conservation through the publication of our draft statement on "Saving the Irish Salmon".
Salmon Watch Ireland has collated and discussed the various submissions and comments made on the day of the conference and we will be inserting some of these very worthwhile submissions into our finalised policy document. 
The conference also included three expert presentations chosen to enhance this policy statement by informing our attendees of a number of areas which SWIRL believes can affect positively everyone's efforts to conserve Atlantic salmon into the future.
Smolt Track - Presentation by Dr William Roche
Dr Willie Roche, a Senior Research Officer with Inland Fisheries Ireland (IFI) the state agency responsible for inland fisheries and sea angling in Ireland. He has worked on many different species over his 30 + year career in the inland fisheries sector and now works on monitoring and research of marine sportfish (primarily elasmobranchs and bass) and sea trout. 
Smolt Track is a very practical and important study which can help in identifying where smolts are lost on their migration from headwaters to the near coastal environment. The issues of predation and barriers to migration may be a significant problem and these studies can inform how predation and barriers may be managed to significantly increase migration success. It may also demonstrate how environmental issues and weather events can affect migration.
However this study methodology is expensive and it is readily accepted that further studies are required over a broader geographic area to ascertain a clearer view of predation and other mortality events during migration. It would be welcomed if strategic co-operation between 3rd level institutes and Inland Fisheries Ireland would be broadened and research strengthened.
The important results from the initial study on the Erriff appear to indicate poor survival in freshwater in certain years which may be related to environmental and water height conditions. The survival in near coastal area appears to be high across all years. Survival in main stem of river is also high with main mortalities happening in tributaries. The study did indicate that mammalian predation may be high.
As part of the presentation the initial results of the large scale examination of Lough Currane sea trout stocks were presented. The initial results indicate that a significant percentage of sea trout smolts are remaining in Lough Currane and not entering the marine area. As this is the first year of the study more significant results are expected when multi-annual results are examined.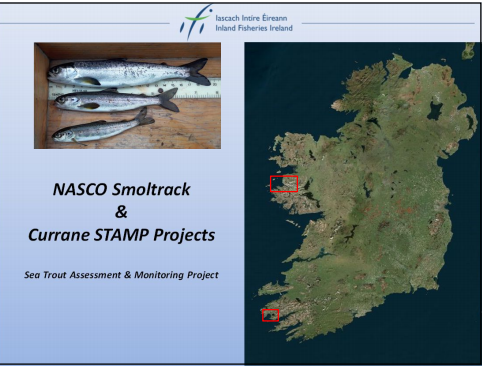 Environmental DNA 
Dr Jens Carlsson is an Associate Professor in the School of Biology and Environmental Science at University College Dublin. He has been working with fish population genetics since 1996 when he started his PhD studies. He received his PhD in population genetics in 2000 from the Swedish University of Agricultural Sciences. He then took up a Marie Curie funded Postdoc at The Danish Institute of Freshwater Fisheries Research where he worked with brown trout population genetics. Since 2012, he has been working at University College Dublin. While, he has primarily published extensively on population genetics of aquatic organisms,his lab group at University College Dublin is in addition to population genetics also focused on developing methods for environmental DNA studies.
Environmental DNA may be a significant breakthrough in efforts to sample river systems, open ocean fisheries and near coastal areas in a non-invasive manner. There are many benefits to the use of this technology principal among which is the benefit of reduced cost involved due to its simple sampling methodology and decreased reliance on manpower. This technology can revolutionise fishery science and management.
Its uses are evolving with sea lice quantification in near coastal bays one of the most interesting uses. The issue of barriers may also be progressed by this method as it is now possible to categorise significant migration barriers through a simple water sample. The evolving uses may also contribute towards identifying and managing invasive fish species in freshwater also.
The uses of this technology are continuing to evolve and are certainly a very positive tool for stakeholders to examine salmonid catchments and identifying aspects which may hinder salmonid populations from attaining optimum production.
In an international context it is evident that large scale pelagic fisheries are impacting on salmonid survival and thus any effort to identify critical periods and locations of salmon in heavily fished areas is to be supported and welcomed.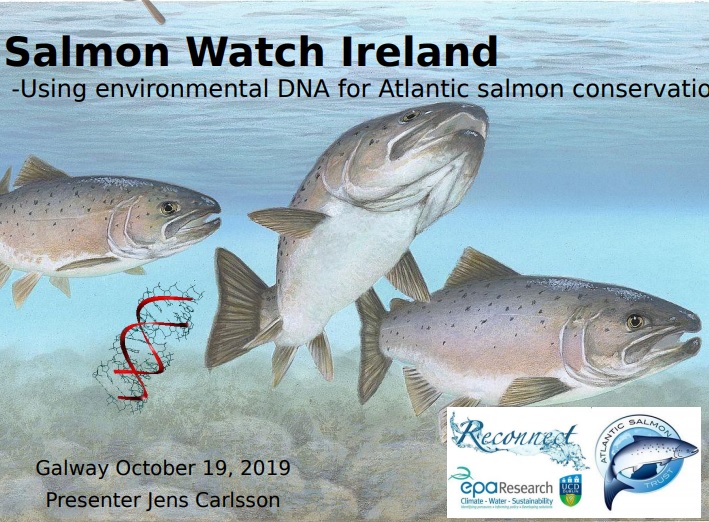 Closed Containment and Semi-Closed Containment in Aquaculture
Dr Åsa Maria Espmark is a senior scientist in Nofima, Norway. Her scientific interests has been related to welfare, welfare indicators and stress, both in Atlantic salmon and the cleaner fish species lump fish and Ballan wrasse. Dr. Espmark has coordinated several national and international projects. Since October 2017, she has been the Centre Director for CtrlAQUA SFI (centre for research based innovation), partly funded by the Research council of Norway, where 20 R&D and industry partners collaborate to develop technological and biological innovations that make closed containment a reliable and economically sustainable technology.
Salmon Watch Ireland is confident that these types of  technology may in time form the basis of the fish farming industry in Ireland and globally and as such there was a significant need for all concerned with wild salmon conservation to inform themselves of current research and development. Our interest is strictly to ensure that this industry does not affect wild salmon and sea trout and as such it was a revealing presentation on how far the industry has progressed in research and development of facilities which may help to increase their sustainability in regard to protection of wild salmonids and coastal ecosystems.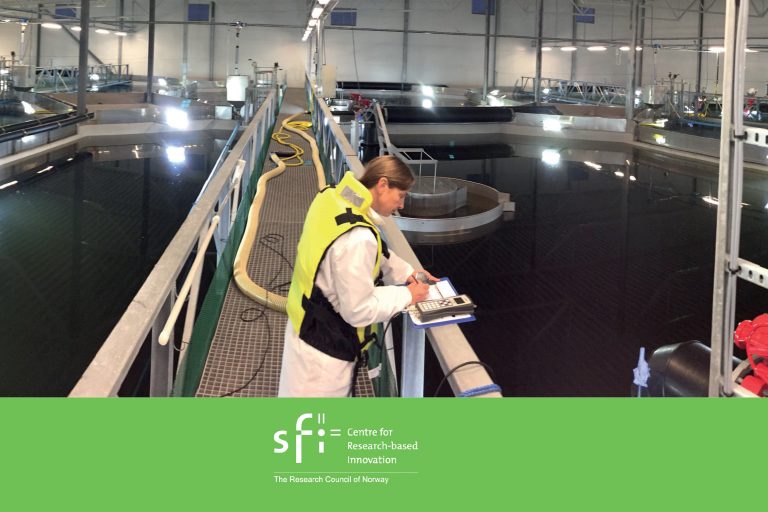 The presentation addressed the current research carried out in conjunction with the Norwegian government on closed and semi-closed containment systems. The objective appears to be that the research is being carried out to allow expansion of production in Norway which has currently reached a point where open cage farming throughout the region is experiencing environmental obstacles and the primary objective appears to be to limit time at sea in open cage facilities for salmon in the farming process thus diminishing effects of marine parasites, escapees and disease with the overall objective of allowing expansion. Effectively research is focussed on producing smolts to a larger size in recirculation systems before transfer to coastal semi closed systems which will grow fish up to 1 kg in weight. This production schedule will reduce residence in open cages at sea and effectively protect farmed fish in the most critical time of its life.
While the advent of semi-closed containment may appear a significant improvement regarding protection of wild salmonid juveniles migrating at sea it is evident that the technology is not really settled and does not as yet address serious issues with disease transmission and adverse environmental issues particularly harmful algal blooms and increasing jellyfish density in Atlantic waters. It does however substantially address sea lice infestation and it was also demonstrated that fish transferred from semi-closed units to open cages were less susceptible to sea lice infestation. The principal advantage of the semi closed units is where water is drawn from (Up to 30 Meters below surface) effectively eliminating parasites which are planktonic in nature and distributed in top layer of surface waters. The energy source to power water intake and discharge pumps in these units requires a reliable electricity source which has effectively necessitated the near coastal location of units thus far. It is noted that the use of semi-closed systems to grow fish to market size has not been researched.
In regard to closed containment systems on land the research is more positive with a large number of facilities already in train. The main obstacle appears to be cost and the large area of land which would be required to replicate and replace the open cage production in Norway. Closed containment is certainly being progressed with the majority of smolts being produced in these systems in Norway.
Overall the advances in technology are in the main to ascertain how this industry can be progressed and expanded. There would appear to be little interest in these technologies to bring salmon to market size except in countries which do not have a ready supply of oceanic coastline with temperatures and environmental conditions suitable for open cage technology. Another aspect of these large closed containment facilities coming on line is their location close to large population markets which can readily supply large markets on on-going basis.
Salmon Watch Ireland certainly supports closed containment on land and with an expected increase in salmon farming in Ireland to circa 40,000 tonnes it is not beyond the government to facilitate the construction of a small number of closed containment facilities which would readily facilitate this tonnage. BIM could certainly involve themselves in these projects rather than trying to support a failing technology like open net cage. It is entirely possible to build these facilities near to open cage bays thus providing employment potential without loss of local economic impact.
Certainly the impact of climatic factors may strengthen our efforts as it is privately accepted that open cage technology in Ireland will fail in the future if ocean temperature in coastal areas continues to increase which will in turn increases disease and parasite numbers thus undermining farmed fish health and welfare, increased parasitic loading with consequent economic loss. More importantly wild salmonids and near coastal systems will continue to be further compromised.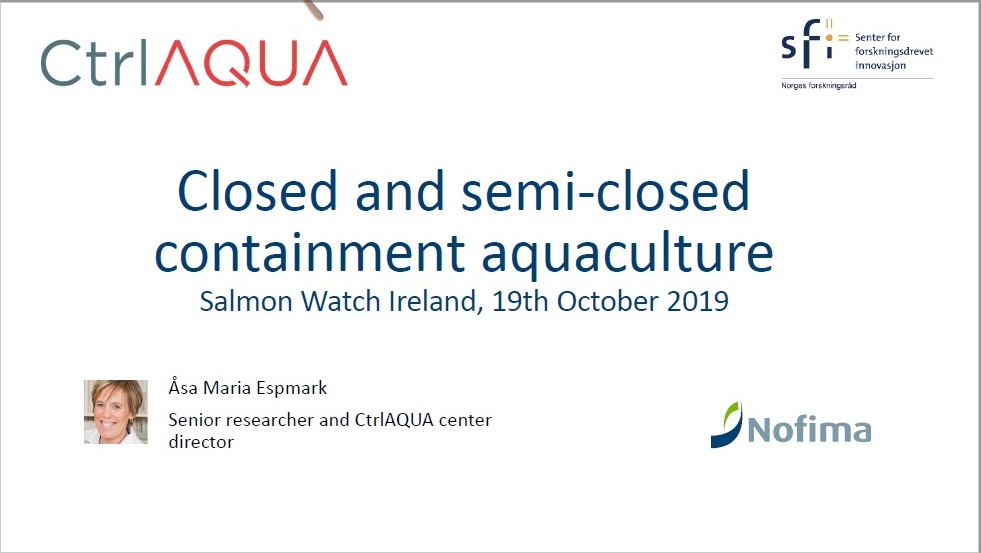 Salmon Watch Ireland has also included links to Conference Comments from Floor and Submissions which were received in relation to our draft Policy Statement.